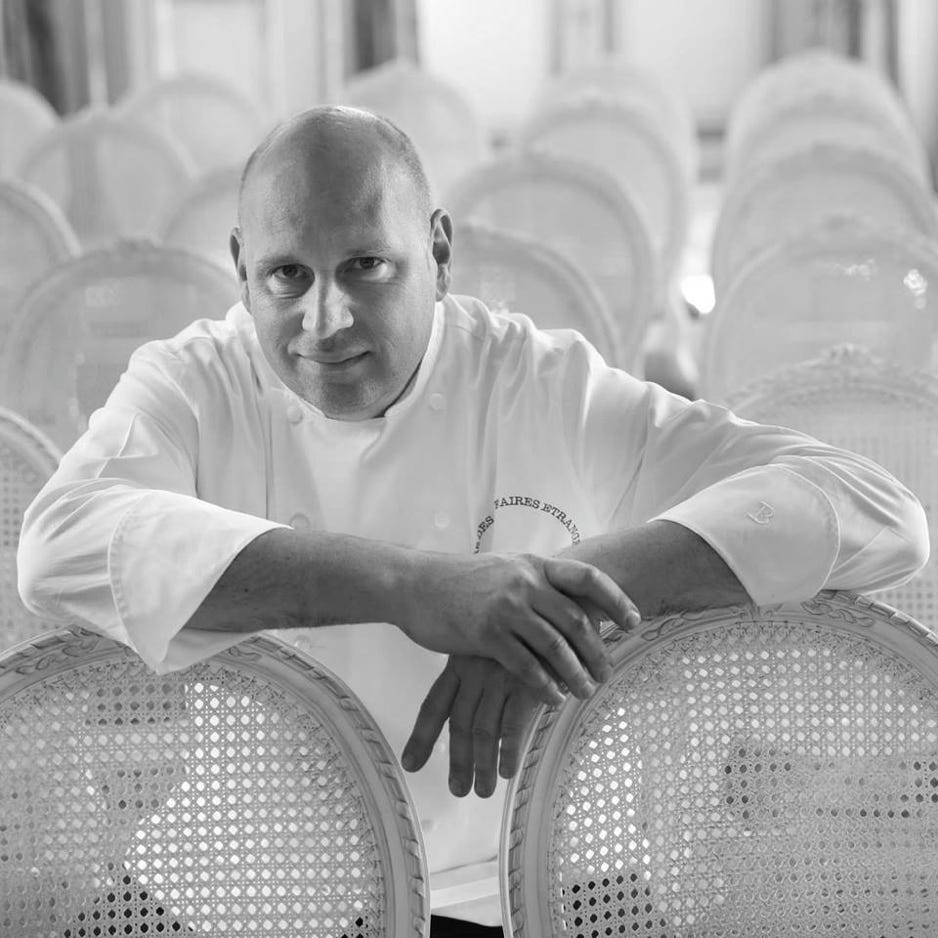 Chef of the Ministry of Foreign and European Affairs,
for more than 20 years.
Fervent defender of the Diplo-gastronomy and french style service. Organizer of numerous international receptions as preparation of the lunch of 172 heads of state and government for the closure of Cop 21 in 2015.
Twice finalist of the "Meilleurs ouvriers de France" awards in 2011 and 2015. "Chevalier de la Légion d'Honneur" (Knight of the Legion of Honor),
Member of the Culinary Academy of the Cooks of the Republic, of the "Toques blanches" of the Chefs of France, as well as the "Toques blanches et disciples
d'Escoffier"
"Women are in the center of the world, and also in the hearts of men. From always, and in each epoch, the woman has been the inspirer, the muse of a multitude of arts. Gastronomy is one of them in its own right.
Women have been relegated for a long time to their domestic kitchens where it is certainly they who structure the taste and vocations of future generations.
They do not need the shadow of a man to shine, they simply need their stove. The feminine gender works by the passion of our profession, of difficult access for too long, and in which however they know how to create a different environment of seriousness and respect within our kitchens.
I am therefore very proud to be the Honorary President of this international competition of La Cuillère d'Or. My tribute to the women of small fairy hands that allowed me to be a chef "
Jury compoés  de (sous réserve de modifications)
• Virginie BASSELOT – Meilleur Ouvrier de France
• Andrée ROZIER – Meilleur Ouvrier de France
• Evi CHIOTI – Chypre
• Hermance JOPLET – Le Castellaras – Fayence
• Alain ALEXANIAN – Lyon
• Philippe HARDY – Le Mascaret * - Blainville sur Mer
- Laétitia GABORIT – Meilleur Ouvrier de France
• Guy LEGAY – Meilleur Ouvrier de France
• Philippe BETRAND – Meilleur Ouvrier de France
• Jean-Jacques MASSE – Meilleur Ouvrier de France
• Jessyca SEIGNOT – Diversey z
• Cynthia MEROPE – METRO France
• Marie-Jo GERMON – Chef du Ministère des Outre Mer
• Sylvie GRUCKER – Le Pressoir de Bacchus – Blienschwiller
• Ilham Moudnib – Chef Pâtissière
• Emmanuel LORIEUX – Nestlé  Professional
• Jean-Marc TACHET – Meilleur Ouvrier de France
• Sandrine KAUFFER – Les Nouvelles Gastronomiques
• Mojgan Tashvighi – Le Mojgan - Lyon
• Dina NIKOLAOU – Evi Evane – Paris
• Odile MATTEI – Journaliste Gastronomique
• Catherine ROUX – Le Comptoir d'Alice - Lyon